Please check our Shipping Info page for current shipping times. Thanks!
We listened to our female customers and designed the Murre specifically to address the most common concerns. The shoulder girth was pulled in while we increased the volume through the elbows and chest. A number of our testers preferred to pull one knee up while they slept so we added extra volume through the lower taper. We also upped the insulation in the footbox and chest to create the warmest of our 0 degree bags. Overall, the Murre has become exceptionally popular for winter camping and spring ascents in the Cascades.

EX: Winter & Expedition. Pertex® Shield® fabric. 15 denier with 40 denier rip-stop reinforcement. Water-resistant/ breathable coating.
Details
Mummy shape with #5 YKK two-way zipper with locking sliders
Pertex Shield EX water-resistant/breathable shell with DWR
Pertex 30 denier taffeta lining
Permanent collar with EX facing to prevent breath condensation from entering the bag
Continuous baffles let you position the down where you need it
3D contoured hood wraps a layer of insulation around your head
Generous draft tube prevents cold air from seeping past the zipper
Tuck-stitch construction hides the baffle threads and prevents moisture from wicking through to the inside
Includes storage bag & stuff sack
Sizing
Mummy Sleeping Bags
Feathered Friends Women's mummy sleeping bags are build a bit more trim around the shoulders, but more space in the waist and hips.
Have questions on sizing? Feel free to Contact Us - We're happy to help!
Additional Info
Ideal Sleeper Height

Small 5' 3" / 160 cm

 


Med 5' 9" / 175 cm
Dimensions
54" shoulder / 56" hip / 38" footbox
Zipper
Right Side, YKK#5
Shell
Pertex® Shield EX (waterproof, breathable)
Lining
Pertex® 30 denier nylon taffeta
Fill Power
900+ Goose Down
Origin
Made in Seattle, USA of imported materials
Temp Rating

0ºF / -17.7ºC

Fill Weight
Small 1 lb 7.4 oz / 663 g

 


Med 1 lb 9.5 oz / 723 g
Average Weight
Small 2 lb 10 oz / 1191 g

 


Med 2 lb 13 oz / 1276 g
Packed Size
17L
Customer Reviews
Write a Review
Ask a Question
09/17/2023
Sarah M.

United States
Snug as a bug
My winter sleeping from no sleep to over sleeping! I am so comfy sleeping in cold snowy weather now. For a 0 degree bag it packs down small. This bag has seen it all backpacking, Spelunking, Sking, climbing whitewater trips, and surprisingly it when to the beach too. The zipper is very easy to use. I am 5 ft tall 110 pounds, so the small is perfect for any petite lady and still have room for layers. There had been a few clear nights I left my tent's fly off to star glaze and the bag got wet. Just shake it and water rolls off and it quickly drys any dampness left. I have not completed soaked it or washed it yet. It doesn't smell bad yet lol. I would still recommend keeping the down as dry as you can, I use a dry bag in wet caves or on white water to protect my burrito! The only thing I I would suggest adding a zipper for the foot box to be opened. This would allow the user to walk around in the morning without taking it off just yet. Yes I don't want to get out of it to make breakfast! With the addition of a foot box zipper it would sacrifice warm. it would likely need more down in the lower portion to be the same level of its current warm with the addition of a footbox zipper.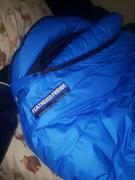 08/16/2023
Olivia K.

United States
Excellent, spectacular, everything I ever dreamed of.
Took this beauty out on a fast pack outside of telluride to climb the Wilson group this weekend. Compressed enough to fit in my 30 liter ultimate direction pack alongside my bivvy, food, water, tarp and layers I needed. Slept at about 1300 feet with just this warm toasty bag and a simple rab bivvy and felt incredibly warm and toasty. I am simply in love. So comfortable and spacious, having the small size is a game changer and I think made all the difference in the world keeping my feet warm without the extra material to heat up. I'm so so happy with this purchase.
06/06/2023
Emily S.

United States
Beat out the WM Antelope for my recommendation
The Murre is an awesome bag, and feels tailored to my body and sleep habits. I highly recommend this bag for women who sleep cold, with one leg up, toss and turn, or all the above. I didn't know what I was missing by using unisex bags all these years. After trying this bag and the WM Antelope MF, I picked this one for the comfort of the cut. Being able to flamingo sleep after a long day of hiking & climbing when my body is tired is worth a couple of extra ounces to me. I was initially concerned about the narrow shoulder cut as I didn't feel the WM Antelope was overly baggy there (the Murre shoulder dimension is 8" smaller!) but shockingly the reduction was not at all a bad thing... I actually like that the bag feels tailored and "comes with me" when I roll / situp vs me having to fight being swallowed up by it. It is in no way restrictive or too tight, and I'm 5'7" with average shoulders. The Murre also has a better hood than the WM Antelope - it feels deeper and cinches better. The only areas where I felt the WM Antelope surpassed the Murre were weight and the zipper - that's not to say the Murre's zipper isn't good (it is!) just that the WM zipper is... perfection. I could write a paragraph about their zipper (I'll spare the reader here.) But sleeping bags are more than just their zippers and the comfort of the Murre is, in my mind, well worth a couple extra ounces. My recommendations for future models of the Murre would be very slight adjustments from current: slightly narrower @ elbows, slightly stronger cord locks, and a choice of zipper side (Maybe one color could have left, the other right sided zip?) Overall these are very minor complaints considering how great the Murre is. Expertly designed bag - hat tip and a big thank you to FF!
03/13/2023
Cara T.

United States
A blissful burrito
I was hesitant to spend so much on a sleeping bag, but I have no regrets. I just used this bag for 3 weeks of winter camping in a variety of weather/conditions and it was so cozy. I'm obsessed with the water resistant exterior and the draft collar. Even when car camping and tent camping in cold conditions the exterior never was dewy. I really liked that it was roomy enough to side sleep with my knees up comfortably. With a single thinner base layer (silk/cotton) on this kept me comfortably warm down to about 20 degrees (F). I started to get a little chilly when it got down into the teens with a single base layer, but with a second, warmer layers I was comfortable even at 8 degrees (F; given, there were 2 of us in the car). It was a bit too toasty once it hit 40(F), but I bought this as a cold weather bag so that is good. For reference, I'm a cold-avg. temp sleeper, slender framed and 5'7"; the fit of the bag was roomy but not too much so.
12/15/2022
Anonymous

United States
Great, warm bag
The bag kept me nice and cozy in my long underwear, even when air temps dropped down to 5F. The bag felt nice and roomy for me (5'6"), even with some of my extra clothes in there, and both sinches worked well to keep the cold air out. The only thing that would add to the bag design would be a small pocket to hold glasses or contact lens case, or anything else you don't want freezing.