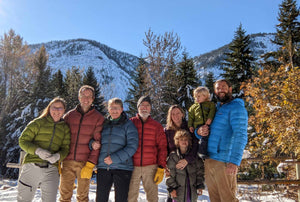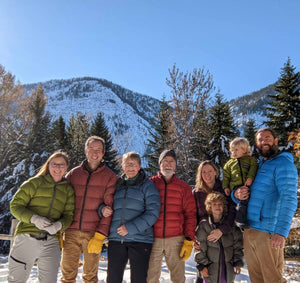 The Feathered Friends Story
Handmade in Seattle Since 1972
Our founders, Peter and Carol Hickner, moved to the Pacific Northwest and started making the outdoor gear they wanted to use but couldn't find or afford in 1972. 
Starting in their basement and armed with a secondhand Union Special® industrial sewing machine, a keen eye for design, and the patience for exacting detail, Carol and Peter built a legacy of craftsmanship and quality that the second generation of our family carries on today. 
Our two factory locations are in the SoDo area of Seattle, just a stone's throw away from our retail store and a hop, skip, and (long) jump from the North Cascade mountains that inspire our designs and test our gear.   
Simple, Lasting Quality
Looking for bells and whistles or the latest trend? Won't find that here.* Peter and Carol decided early on to focus on functional designs made from quality materials. The end result not only feels amazing when you slip into it in the backcountry, it supports our guiding principle that good gear should be made to last. It's not uncommon to see 30 or even 40 year old sleeping bags come back to our factory for a wash and minor updates, after which they're back in action.     
*Bells and whistles sold separately at our retail shop, which stocks a full selection of mountaineering and backpacking gear ;-)
What's In a Name?
Not expecting their venture to take off as it did, Peter and Carol gave their fledgling business the whimsical name of Feathered Friends, in homage to the high quality goose down they used. While the days of selling custom-appliquéd Pink Floyd and American Flag sleeping bags from a booth at the University District Street Fair are long gone, we're still committed to using the best down available.  
Ethically Sourced Down
When the Responsible Down Standard (RDS) was introduced to the market, we were one of the first adopters. Whether it's a comforter, jacket, or sleeping bag, 100% of the down we use is certified under the RDS
Innovative Fabrics
We're constantly searching out and testing innovative fabrics from industry-leading partners like Pertex®, allowing us to make sleeping bags and garments with the best combination of durability, weight, and weather repellency.
We source the exceptionally soft and durable singly-ply cotton in our down comforters and pillows from a mill that weaves the fabric just for us, using cotton grown and processed according to principles of the Better Cotton Initiative.
The Seattle Store
In addition to the full collection of Feathered Friends indoor and outdoor products, our Seattle retail store offers a curated selection of complementary products from the best brands in the industry. If you're passing through town, please visit us to find a complete selection of gear for backpacking, rock climbing and expedition mountaineering as well as a unique clothing and soft goods collection.