An industry standard value in prusik minding crevasse rescue pulleys from SMC.  Prusik minding pulleys like these simplify crevasse rescue setups and help keep prusik knots from becoming jammed in your pulleys while hauling. Every climber roping up for glacier travel should carry at least one of these on their harness ready to use.  The rotating aluminum side plates make this pulley very easy to put on and take off of the rope. The flatter edges of the pulley side plates opposite the carabiner attachment holes tend prusik knots to help keep them from jamming in the sides of the pulley in between the sheave and the carabiner.

Details
Single crevasse rescue pulley

Aluminum side plates

1.2" Delrin Nylon Sheave

Stainless steel rivet axle

Maximum rope diameter: 1/2" (13mm)
22kN (4946 lbf)
1.8 oz (52g)

Assorted colors
Made In The USA
PLEASE NOTE: THIS ITEM IS NOT ELIGIBLE FOR RETURN OR EXCHANGE
Customer Reviews
Write a Review
Ask a Question
01/27/2023
Tech S.

United States
Encore!
While I haven't worked with these hands on, I purchased about 12 of these for our organization a few weeks ago, and then this week was asked to get 4 more, which when I asked was upgraded to 6 shortly before I left. While the ones we bought are being used in theatrical rigging and not rock climbing, they still fit the specs and requirements we need. Thanks to your friendly staff for holding the product aside when I called, and for their expert handling of our tax exemption as well as giving me a paper and emailed receipt. The small things really add up. Thank you, Feathered Friends!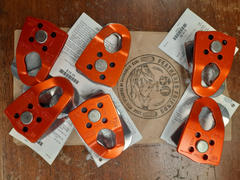 01/23/2023
Tech S.

United States
Brava!
We're a regional theatre and bought 18 of these for rigging purposes. I was just asked to buy 4 more, so they fit the bill! Also, store staff were very helpful over the phone with specs, setting the product aside for us, and in entering our tax exemption into the point of sale, even though we were new customers. Thanks Feathered Friends!